Welcome
24.04.2015 News & Restocks: Schon wieder sind eine Menge guter Platten an den Start gegangen. Andere erscheinen erst noch und können ab sofort vorbestellt werden. Diese Platten wollten wir euch nicht vorenthalten. Ein großartiges Buch über die DEAD KENNEDYS steht ebenfalls kurz vor der Veröffentlichung. Wir wünschen viel Spaß beim Stöbern.Guten Sound kann man nie genug haben ;-)
Abfukk / Empowerment - Split 7", Appalachian Terror Unit-we don't LP FARBIG / BLACK, Beyond Pink - against the universe LP, Burned Out - Discography LP (farbiges Vinyl !!!), California über alles - Dead Kennedys - wie alles begann Buch, EA80 - 202 LP + 7", Flexfitz - Abschied von der Illusion LP+MP3, Forgotten Youth - s/t LP + MP3, Franz Wittich - Hardcoreaffe LP (farbiges Vinyl !!!), Guts Pie Earshot - Amparo Fugaz LP+MP3, Hounds Of Hate - hate springs eternal LP, Hudson Falcons - peace of mind CD / LP+MP3 (farbiges Vinyl !!!), Jello Biafra & New Orleans Raunch LP+MP3 / CD, Kackschlacht - 3. 7" (farbiges Vinyl), Lyvten / i.explode - Split 7" + MP3, Notgemeinschaft Peter Pan-Dirigenten, Domteure, Diktatoren LP+MP3, Red City Radio - red city radio LP+MP3 / CD, Siberian Meat Grinder - same CD, Sick Of It All - blood, sweat and... LP, Spine - time has gone LP (farbiges Vinyl !!!), Terrible Feelings - Tremore LP+MP3, Urban Attack - against atao LP + MP3, Valkyrians - rock my soul LP+CD, Wolves & Wolves & Wolves & Wolves -subtle serpents LP / CD
---
13.04.2015 News & Restocks: Abfukk - Bock auf Stress LP+MP3 / CD, Alarmsignal - viva versus LP+MP3 / CD, Berurier Noir - invisible LP (zum 1. Mal auf LP), Berurier Noir - nada 84 7", Blank Pages - No Reception 7" (limitiert), Briefs - odd numbers CD, Circle Jerks - VI LP (farbiges Vinyl, stark limitiert), Convict - burn the flags LP / CD, Disorder / Agathocles - Split 10", Dr. Ring Ding Ska-Vaganza - bingo LP+MP3 / CD, E123 - unter keinen Umständen CD (Electro), Egotronic - C' est moi LP+MP3 / CD, Giulio Galaxis - s/t LP + MP3 / CD, Haine Brigade - sauvages LP (farbiges Vinyl), Hellhammer - Satanic Rites LP, Iron Lamb - Fool's Gold LP (farbig!es Vinyl), Kataxnia - s/t LP (Griechenland), KSM40 - taste of rust 10" + MP3, Kellerasseln - Mittelmeerromantik 7", Krank - Freispruch LP / CD, La Urss - Maravillas Del Mundo LP, Les Partisans - style of 1994/2002 LP (Frankreich), Love A - Jagd und Hund LP+MP3 / CD, Millencolin - true brew LP / CD, Misfits - walk among us LP, Napalm Death - Time Waits For... LP (farbiges Vinyl), Napalm Death - Smear Campaign LP (farbiges Vinyl), Negative Self - s/t LP (farbies Vinyl), Newtown Neurotics - beggars can choosers LP, Oppressed - victims 7", Paper Arms - great mistakes LP+MP3, Peter & The Test Tube Babies -singles LP, Plastic Bomb Party 2015 -Eintrittskarte, Ruhrpott Rodeo 2015 Ticket, Restmensch - die Erde ist eine Scheisse LP + CD, Schmutzstaffel - Fehler LP, Serious Dringing-love on the terraces 7", Skannibal Party Vol. 13 Comp.CD, Slime - fick das Gesetz 7" (last copies), Social Distortion - White Light... LP, Sonics - this is the sonics LP / CD, Sunlun - ceaseless exhausting persuit LP, Teenage Bottlerocket - tales from LP+CD / CD, Verlorene Jungs- verlorene Jungs CD, Voight-Kampff-Last House On The Right 7", Volxsturm - Oi! is fun CD / 2xLP (farbiges Vinyl), War For Freedom - Comp.LP (Griechenland), What We feel / Last Hope - Split 7", Y - Bomb Havelland LP
---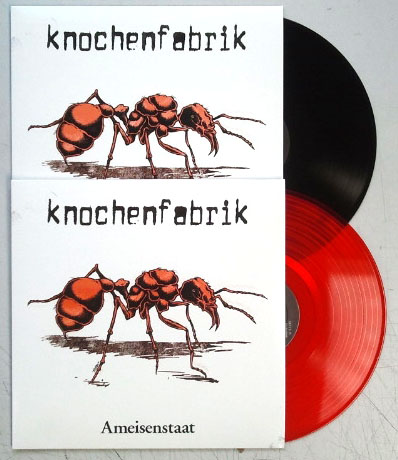 KNOCHENFABRIK - Ameisenstaat LP + MP3, dieser Klassiker des deutschsprachigen Punks der 90er-Jahre war viele Jahre ausverkauft. Jetzt auf PLASTIC BOMB RECORDS neu veröffentlicht in schwarzem und rotem Vinyl (exklusiv nur bei uns!).
Die "Ameisenstaat" LP von KNOCHENFABRIK überzeugt mit grandiosem Humor, hinter dem oft inhaltliche Kritik an Kirche, Konsumgesellschaft, Korruption und staatlicher Willkür stecken. Ewig junge Songs wie "Grüne Haare", "Filmriss", "Obdachlos & trotzdem sexy", "Glücklich", "Bring dich um" werden wie eh und je auf vielen Parties und Konzerten lautstark, textsicher und schief mitgesungen.
F.O.A.D. Records Label Special
Nachdem es beim letzten Label Special Richtung Norden ging (Dänemark), haben wir nun ein großartiges Label aus dem Süden (Italien) ausgebuddelt, das uns mit einem fetten Plattenpaket versorgt hat. Es geht um F.O.A.D. Records aus dem sonnigen Alessandria. Dort wird Italo-Hardcore der ersten Stunde, Geknüppel und Crossover/Thrashcore noch großgeschrieben, da bleibt keine Bandana trocken. Als besondere Schmankerl seien hier Ex-Yugo-Crusties BRAINSTORM, die alten Euro-Hardcore Recken EU's ARSE mit Komplettdsikografie oder auch die Könige des brasiliansichen Crossover Thrascores RATOS DE PORAO empfohlen.
Schaut mal rein!

Brainstorm - Only The Dead See The End Of The War Lp (einseitig besiebdrucktes, farbiges Vinyl!), Broken Bones - Dead And Gone MLP (einseitig mit Siebdruck!), Cryptic Slaughter - Stream Of Consciousness 2xLp, EU's Arse - Attacca Le Menti: Discografia 1981-85 Deluxe Lp+CD, Ratos De Porao - No Money, No English 2xLp, Raw Power - Screams From The Gutter Lp, Underage - Perchè Non Siamo Per... Lp, Yacopsae - Einstweilige Vernichtung Lp (farbiges Vinyl!)
---
13.03.2015 News & Restocks: Anti-Flag - A Document Of Dissent 2xLP / CD, Ausbruch - Träume von gestern 7"+MP3, Anchor - Distance & Devotion LP, Boss Capone - 69 Reggae Bonanza LP+CD, Chaotic End - in front of paranoia LP+MP, Cheap Drugs - Brutal Death LP, Cyanide Pills - government / hit it 7", Death Sentence (AUS) - Ryan Exhumed LP, Die Bullen / Keine Zähne... Split 7", Emscherkurve 77 – Buch des Lebens LP+CD (farbiges Vinyl) / CD, Endless Column - summer 7", Ex-Craw - extant / extinct LP+CD, Frogrammers – Boring LP (farbiges Vinyl), Gimp Fist – Vinyl Collectors 4 LP Box, Gogol Bordello - wonderlust king 7", High - same 7" (limitiert), Impalers - Psychedelic Snutskallar 12", Iron - Desperate Fight LP, Japanische Kampfhörspiele - Deutschland von vorne II LP, Kaput Krauts / Das Flug Split LP + MP3, Keine Zähne im Maul - die Biellmann LP / CD, The Kids - naughty kids LP, Laurel Aitken - Ska with Laurel LP, Mann kackt sich in die Hose - Nowosibirsk 7" (limitiert), Miscalculations - a view LP, Mörser - V LP / CD, Oppressed - antifa hooligans 7", The Outcasts – Frustration LP (farbiges Vinyl), Real McKenzies - Rats In The Burlap LP / CD, The Riots - time for truth CD, Scum Of Toytown - cells LP+MP3, Selofan - Tristesse LP + MP3 (limitiert), Sniffing Glue - cold times Tape, Stalin Video – Animalistik LP (farbiges Vinyl), Systematik - Bondage LP, Tubbe -keine Arbeit lieber Tanzen LP+MP3 / CD, TV Smith & Red Dons - a vote 7", Uniform Choice - 1982 orange peel 7" (farbiges Vinyl), Urban Savage - Let Thunder Roar LP, Y - Bomb Havelland LP, Zex - Fight For Yourself LP
---
ADULT CRASH LABEL SPECIAL
Es ist immer noch ungemütlich draußen und genau deswegen haben wir unsere Kopenhagen-Verbindung aktiviert, um euch ein weiteres feines Label Special zu präsentieren, mit dessen Tonträgern ihr in eurer Hütte einheizen könnt. Kopenhagen, Restskandinavien und Finnland gelten seit vielen Jahrzehnten als Garanten für großartige HC-Punk-Musik, also lag nichts näher, als sich eines der Label herauszupicken, das seit Jahren verdammt gute Arbeit in Bezug auf die lokale K-Town-Szene und die Nachbarschaft leistet. Ein Knaller jagt den nächsten und wir hoffen natürlich, dass in der Bude bleiben bei den Platten doch etwas leichter fallen sollte.

Agent Attitude – Deranged Realities Lp, Damaged Head – Tunnel Vision Lp, Death Token – All Dreams Are Nightmares Lp, Neu-Ronz – s/t 7", Night Fever – New Blood Lp, Night Fever – Vendetta Lp, Night Fever/Harda Tider Split Lp, Nitad – En Ding Ding Värld 7", Nukketeatteri – Tervetuloa Helvettin... 7", Obnoxious Youth – The Eternal Void Lp, U.X. Vileheads – Catch 22 7"

Europa schottet sich ab mit einer menschenverachtenden Flüchtlingspolitik. Pediga, Hogesa und rechte Parteien schüren gezielt Ängste gegen alles Fremde. Wir können mit Worten und Taten, aber auch optisch zeigen was wir davon halten. Hier unser textiler Beitrag zu Thema "Refugees welcome" und "Kein Mensch ist illegal", erhältlich als T-Shirt, Girlie, Kapu, Zipper, Tank Top und Stoffbeutel.

---
Unser Angebot für begrenzte Zeit: Gang Green - you got it / older budwiser 2xLP im Klappcover für nur 10 Euo!!!
18.02.2015 News & Restocks: Adam Angst - Adam Angst LP+MP3 / CD, Because The beans - venus in pain LP+CD, Black Code - Hanged, drawn & quatered LP (farbiges Vinyl !!!), Blitz - voice of a generation LP SILVER Edition (farbiges Vinyl !!!), Citizen Fish - dancing on spikes LP, Conflict - the final conflict LP, Death Burning - before the nightmare LP, Doomsisters - s/t LP (farbiges Vinyl !!!), EA80 - 202 LP + 7", Ein gutes Pferd - Robotertauben 12"+MP3, Fatal - s/t 7" (lim. Siebdruckcover), Gang Green - you got it / older budwiser 2xLP, Iron Reagan - Tyranny Of Will LP, Klamydia: Miljoonan... 7", L'Attentat - Made in GDR // LP + 7" +MP3, L'Attentat -Leipzig in Trümmern 7"+Heft, Leftover Crack - fuck world trade 2xLP+CD / CD, Mau Maus - fear no evil LP, NOFX & Friends - Seeping Beauty 7", NOFX - backstage passport soundtrack LP+MP3 / CD, Plastic Bomb #90 (+ Gratis-CD), Restarts - system error LP, Rogers - steh auf 7" (limitiert), Siege - Lost Session '91 7", Violent Arrest -Life Inside The... LP+CD, Warsaw - warsaw LP, Wartorn - Iconic Nightmare LP
---
06.02.2015 News & Restocks: Accüsed – Martha Splatterhead Lp (farbiges Vinyl !!!), Alarmsignal - viva versus LP+MP3 / CD (VÖ: 20.03.2015), Alarmsignal - viva versus T-Shirt (VÖ: 20.03.2015), Alarmsignal - viva versus Package (exklusiv !) VÖ: 20.03.2015, The Boys -punk rock menopause LP / Picture-LP (limitiert), Brixton Cats - quartier maudit LP + Poster, Crack It --crack it! 7" (farbiges Vinyl), Defiance – Out Of Order LP (farbiges Vinyl), Detestation - s/t LP, Dritte Wahl - geblitzdingst CD / LP, Dystopia - s/t LP, Exilent - signs of devastation LP + MP3, Government Flu - tension LP, Hibernation - Into The Silence... LP, Lagwagon - hang LP + MP3 / CD, Love A - Jagd und Hund LP+MP3 / CD (VÖ: 27.03.2015), Madness - liberty of norton folgate CD, NOFX - Home Street Home CD (VÖ: 20.02.2015), Notdurft - Notdurft LP (limitiert !!!), Pears - go to prison LP/CD, RKL - rock´n´roll nightmare LP, Septiembre Once - no estamos... 10" (Uruguay), Sin Orden - rauices de resistencia LP, Stalin - stalinism LP
---
Habt ihr auch das Gefühl der Winter wurde 6 Monate dauern und die Kälte findet kein Ende? Zeit für Winter-Wave-Punk, die Mucke fürs Gemüt. Wir haben einige wunderbare, teils nur schwer erhältliche Platten aufgetrieben, die wir euch ans Herz legen möchten. Es geht um Wave, Punk, Gothic, Cold Wave und weitere Sounds voller düsterer, melancholischer und tragischer Momente. Zudem haben wir mit den Labels AVANT! (Italien) und FABRICA (Griechenland) 2 herausragende Plattelieferanten dieses Genres an Bord. Es gibt viel zu entdecken.
Aeon Sable - saturn return LP/CD, Aeon Sable - visionaers CD, Beastmilk - white stains on black wax 7", Beastmilk - use your deluge 7", Chelsea Wolfe - the grime LP+MP3 / CD, Chelsea Wolfe - CD, Cielo - no futuro LP + MP3, Deied - tales of sodenliah CD, Dividing Lines - lonely in the crowd CD, Doric - over mentality LP + MP3 , Dream Affair - Endless Days LP, Gloom Sleeper - Tape, Holograms - forever CD, Holograms - holograms LP+MP3 / CD, Horror Vacui - In Darkness You Will...LP, Hot Guts - wilds LP, Instinct Of Survival - Call of the blue distance LP, Joy Division -studio sessions 1978-80 LP, Joy Division - heart & soul LP, Lebanon Hanover - the world is getting colder LP, Lebanon Hanover - why not just be solo LP, Lost Tribe - solace LP, M!R!M - heaven LP + MP3, the New Flesh - the absurd LP, Night Sins - To London Or The Lake LP, Night Sins - new grave LP, Selofan - verboten LP + MP3, She Past Away - belirdi gece LP, White Hex - Heat LP

---
22.01.2015 News & Restocks. Adam Angst - Adam Angst LP+MP3 / CD (VÖ 20.02.2015), Artificial Eyes - I just want a brand-new revolution CD / LP+MP3, Baboon Show - early years LP+MP3 (farbiges Vinyl), Bums - Artikel 5 CD, Burnchurch - s/t LP, Chaos En France Vol. 1 - Comp. LP, Chaos En France Vol. 2 - Comp. LP, Cielo - no futuro LP + MP3, Criminal Code - savage 7", DWARVES - gentleman blag 7", Doric - over mentality LP + MP3, Dr. Ring Ding & Sharp Axe Band -gwaan LP (limitiert), Dr. Ring Ding & Sharp Axe Band -march LP (limitiert), Dr. Ring Ding & Sharp Axe Band -white rum 7" (limitiert), Feine Sahne Fischfilet -bleiben oder gehen LP+MP3 / CD, Gloom Sleeper - Tape, Gloomster - Nägel mit Köpfen LP+MP3 (farbiges Vinyl), Hamburg Ramönes - going down in history CD, Heinz Strunk -sie nannten ihn Dreirad LP / CD, Instigators - nobody listens anymore LP (farbig) / LP (schwarz), Instigators - the blood is on your hands LP (farbig) / LP (schwarz), Joy Division -studio sessions 1978-80 LP, M!R!M - heaven LP + MP3, Manege Frei -return to... 7", NOFX - backstage passport soundtrack CD / LP+MP3, Nirvana - MTV unplugged LP, Oxymoron - fuck the 90s... LP, Proud To Be Punk #21 - Fanzine, Punkrock Almanach 2014 - Buch, Riistetyt - raped future LP, Selofan - verboten LP + MP3, Ska-Libre Part 1 LP / CD, Suicidas - Los Primeros 7"s LP (VÖ 5.2.2015), Violent Arrest -Life Inside The... LP+CD, Zugezogen Maskulin - alles brennt LP+CD / CD (VÖ 13.02.2015)
---
9.1.2015 News & Restocks: Alpinist - MinusMensch LP, Annoyed -Propaganda und und alte Werte CD, Antilopen Gang - Aversion 2x LP+CD / CD, Atlas Losing Grip - currents 2xLP (farbiges Vinyl !!!), Atlas Losing Grip - currents CD / CD (Special Edition), COR - cuba cor libre DVD, COR - lieber tot als Skalve LP / CD (VÖ: 23.01.2015), Che Sudaka - hoy CD, Crumbsuckers - life of dreams LP, Disorder - Fires Light The Sky LP, Dr. Ring Ding meets Dreadsquad - Dig It All CD, GG Allin - 1980s Rock´n´Roll LP, Giuda - racey roller LP, Goldfisch in der Grube - Hörbuch (Bela B.), Kenny Oh Oh / Lambs - Split 7"+MP3, Knaegt - s/t LP (farbiges Vinyl !!!), Life (Tokio) - proof of survival 7", Los Fastidios - let´s do it CD, Meteors - 3 monkeys Kapu, Meteors - 3 monkeys T-Shirt, Meteors - blue sunshine T-Shirt, Meteors - god save the... T-Shirt, Napalm Death-Apex Predator - LP / Ltd. CD Media / Ltd.Box Set (VÖ: 26.01.2015), Radio Havanna - unsere Stadt brennt LP+MP3 / CD (VÖ: 15.02.2015), Raised Fist - from the north CD, Restmensch - die Erde ist Scheisse LP + CD, Schmutzstaffel - Fehler LP, Sick Of It All-Hardcore Equals 7" (rot), Street Eaters - blood:muscles::bones LP+MP3 (farbiges Vinyl), Stressfaktor - zurück auf Null CD, The Riots - take no prisoners LP + MP3, The Riots - time for truth LP + MP3, Trümmerratten - Auferstanden CD, Trümmerratten / Symptome Statt Ursachen - Anti-Polizei Split 7", Wednesday 13 - monsters of the universe CD, World/Inferno Friendship Society - this packed funeral LP / CD