Please enter the article no. from our catalogue.

Products description
SNIFFING GLUE sind zur Zeit eine der Bands deutschen Hardcorebands, die Bands wie BLACK FLAG, JERRY`S KIDS und an einer Stelle sogar die DEAD KENNEDYS wieder aufleben lässt. SNIFFING GLUE verstehen sich darauf nicht nur drauflos zu ballern, sondern geschickt zu variieren, so dass z.B. auch Gedanken an punkrockigere 80s-Bands wie TSOL, BAD RELIGION oder die ZERO BOYS aufkeimen. Die CD beinhaltet zusätzlich die 2 Songs ihrer Split-EP mit PRESS GANG. Als Bonus findet man am Ende 8 qualitativ gute, unveröffentlichte Live-Aufnahmen. Plastic Bomb Rec.
Optional mit dem Sniffing Glue Fanpaket: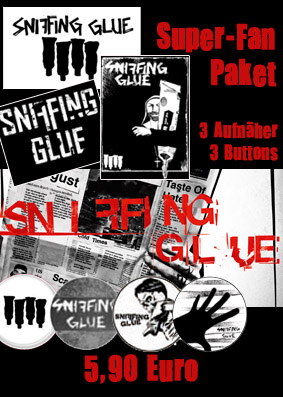 In diesem Paket befinden sich 3 Aufnäher unserer Wahl, quer durch alle Sniffing Glue - Aufnäher, wobei einer SICHER der neue "slip it in" Patch ist. Außerdem 3 Buttons unserer Wahl, die teilweise noch nicht in unserem Shop angeboten wurden und damit echte Special-Motive sind. Zusammen mit dem Tonträger für nur 5,50 Euro Aufpreis
Customers who bought this product also bought the following products:
This Product was added to our catalogue on 03/02/2010.